BLOG

Seaweed Handling and Processing: Guidelines for Alaska
Read: Seaweed Handling and Processing Guidelines for Alaska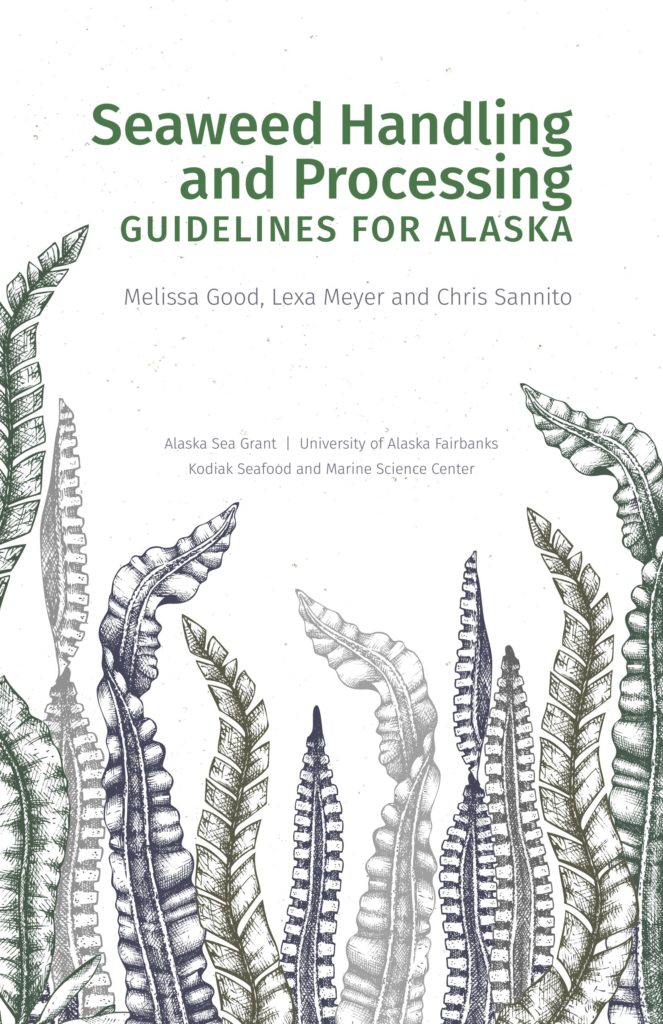 Authors Melissa Good, Chris Sannito, and Lexa Meyer of Alaska Sea Grant - University of Alaska Fairbanks' Kodiak Seafood and Marine Science Center wrote a comprehensive guide for seaweed use in Alaska: Seaweed Handling and Processing Guidelines for Alaska.
We recommend perusing through, even for those of you who are not harvesting or farming seaweed! Their overview of rules and best practices for seaweed harvesting, growing, and processing can help illuminate the magic of seaweed as well as biophysical and mechanical concerns involved in each step of seaweed harvest and processing.
"There is state and federal support for developing Alaska mariculture industries, which could help increase sales of Alaska seaweed, and increase the capacity and capability of new and existing companies involved in purchasing and processing. This guide was developed to help individuals and companies better understand what's involved as they decide whether to enter the seaweed processing industry, and to provide some industry standards in the manufacturing or processing of kelp."  - Introduction to Seaweed Handling and Processing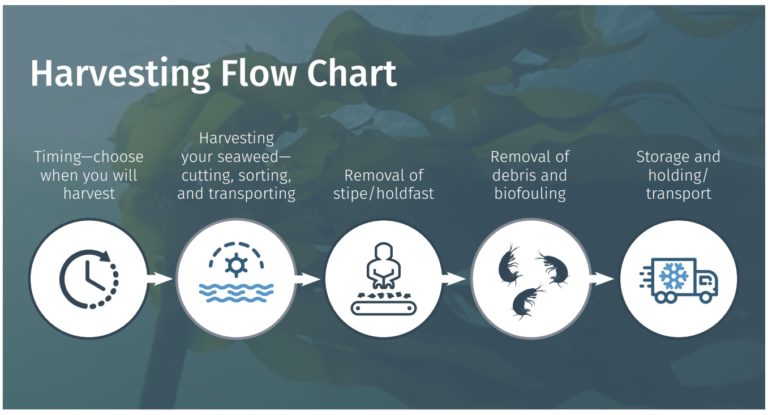 Harvesting excerpt: "Timing for harvest is site dependent, with optimal harvesting conditions occurring when increasing water temperatures decrease biomass quality and quantity. It is important for farmers to understand their site characteristics and know when fouling will start to take place. The harvesting period for a given location ends as rapid increases in water temperature lead to development of epifauna—animals that live on and attach to the surfaces of living organisms— and they can attach to the kelp blades, known as fouling." (p. 41)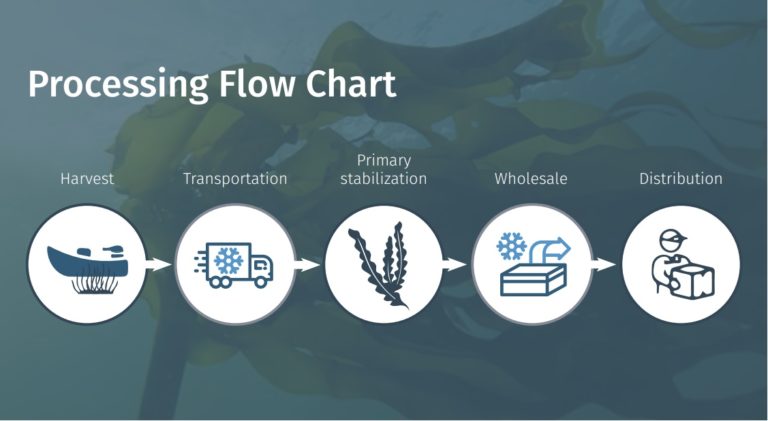 Processing excerpt: "Kelp is typically clean from a microbial standpoint in its natural habitat. Taking steps to keep it this way throughout harvesting, handling, and processing greatly reduces the chances of contamination. It is easier to keep the kelp clean than to decontaminate it at a later step. Depending on the volume of kelp, cleaning equipment can be a simple plastic tub filled with the cleaning solution, a dunk tank, or an industrial-scale vegetable washing machine." (p. 51)
Citation:
Good, M., C. Sannito, and L. Meyer, 2021. Seaweed Handling and Processing Guidelines for Alaska. Alaska Sea Grant, University of Alaska
Fairbanks. Fairbanks, Alaska. https://doi.org/10.4027/shpga.2021
Story Map: A visual of sea gardens and indigenous aquaculture across the pacific
The Sea Gardens Across the Pacific story map shows the importance of revitalizing Indigenous mariculture practices. See the interactive, "living" story map at www.seagardens.net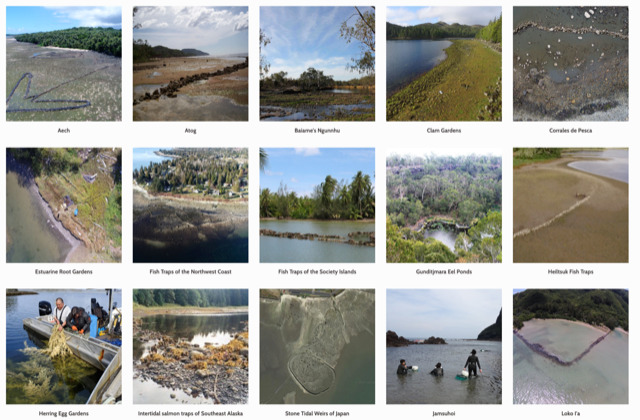 "Indigenous People have been stewarding the ocean for thousands of years. This stewardship has appeared in many different forms around the world, all of which represent a reciprocal relationship between humans and the sea rooted in deep place-based knowledge. From octopus houses in Haida Gwaii to fish ponds in Hawaiʻi, an Indigenous mariculture renaissance is making waves as groups across the Pacific seek to revitalize these ancient techniques and traditions.
For the first time, information about a multitude of Indigenous cultivation practices has been collected into a cohesive online repository. Sea Gardens Across the Pacific: Reawakening Ancestral Mariculture Innovations is a new interactive, "living" story map that synthesizes knowledge about Indigenous aquaculture throughout the Pacific region, including the west coasts of North, Central and South America, the east coast of Asia, Australia, Aotearoa New Zealand, Oceania and coastlines in between. The project shows these local initiatives are not one-off projects, but rather pieces of a global story. A story that is being told by Indigenous knowledge holders, and further amplified by diverse collaborators who created the story map."
Civil Eats on the "Virtuous Vegetable", Atlantic Sea Farms, and scaling up seaweed
Can Small Seaweed Farms Help Kelp Scale Up?
Lynn Fantom, Civil Eats - 03/16/2022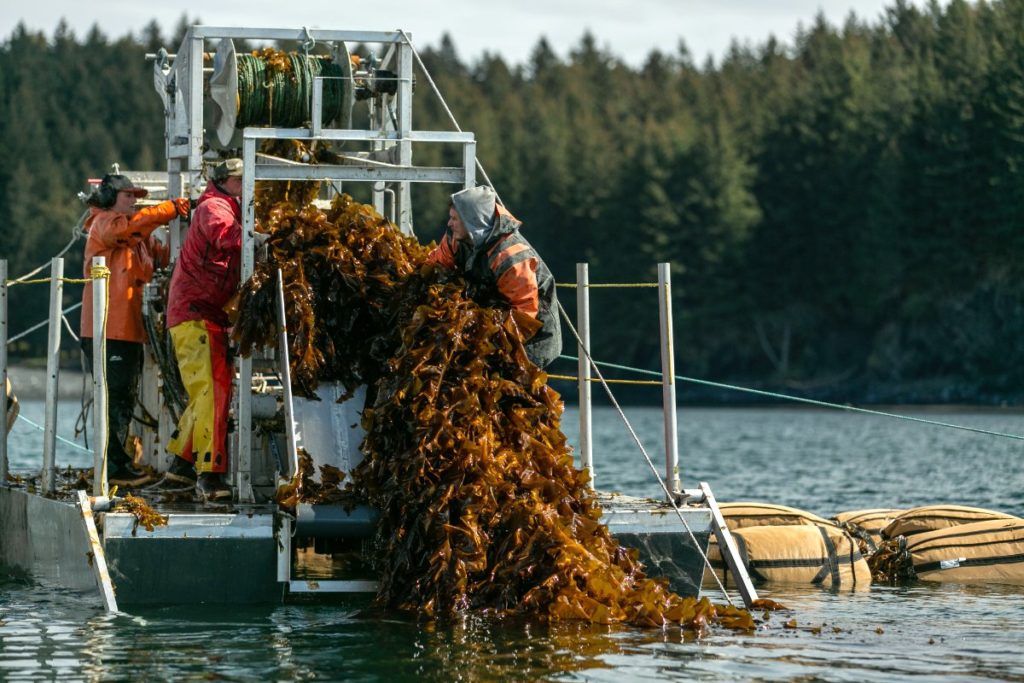 Harvesting Kelp in Alaska. (Photo credit: Rachelle Hacmac). Photo from Civil Eats' article.
Fantom's article explores how companies are capitalizing on US consumers' small, but expanding awareness and demand for seaweed products.
Touching on its capacity as a carbon sink, use as fertilizer, and potential role as methane-reducing livestock feed, the article mostly focuses on edible seaweed and its rising popularity. While some farms are just getting big (especially with Alaska's current permitting regulations), companies like Atlantic Sea Farms are creating a network of small kelp farms by providing seed and a guaranteed market.
This scaling up or "massification" by means of dispersed farms allows more of a sense of stewardship than large, individually owned farms and acknowledges the skill and knowledge of existing farmers.
Seaweed Commons is still asking questions about sizing up the seaweed industry, though. Even with efforts to empower individual farmers, are we ready for a massive increase in kelp demand? If seed is being distributed from a single entity how will biodiversity and genetic integrity be preserved in our inter-tidal kelp forests? Will scaling-up allow for harvest methods that promote rather than deplete seaweed's carbon storage capacity, habitat creation, and everything else it is already doing to "save the world"?
Scotland's Seaweed Showdown
Scotland's Seaweed Showdown by Cathleen O'Grady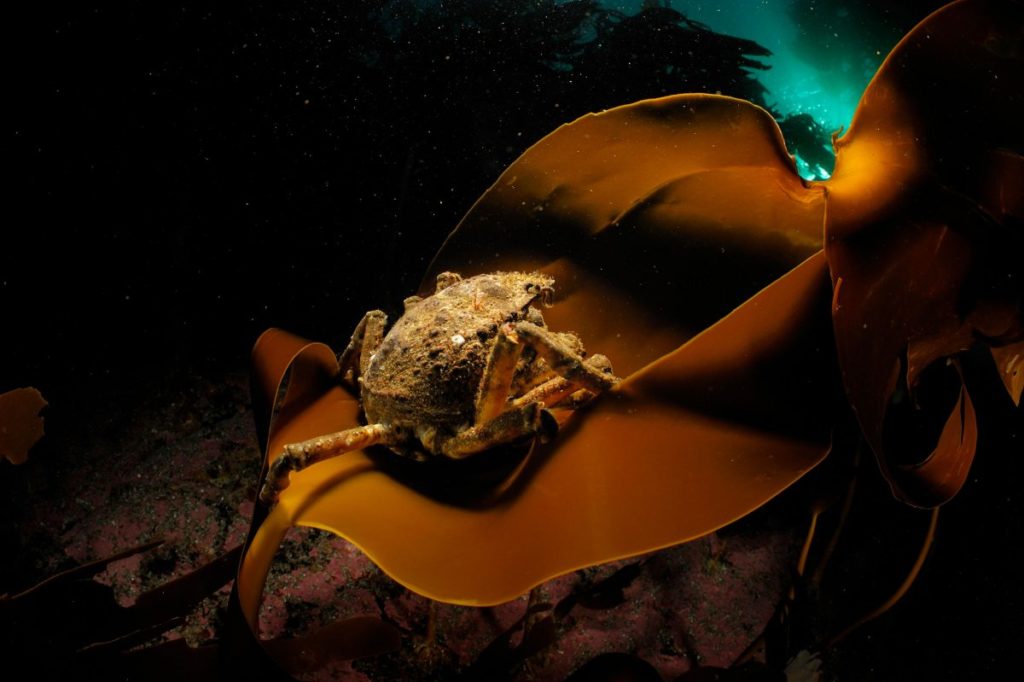 The great spider crab is one species that finds food and shelter in Atlantic Ocean kelp forests. Photo by Nature Picture Library/Alamy Stock Photo
"Garvie Bay is an excellent spot for seaweeds. They coat the intertidal rocks in purple, brown, and near-fluorescent green." Writes Cathleen O'Grady. "McLellan sells some of the seaweeds dried and coarsely ground into chunks as snacks or flavorful additions to soups and stews; others she sells fresh to seafood companies that supply restaurants. But lately, the tangles of kelp that darken the water below the tideline have been commanding her attention for different reasons.
In August 2018, a Scottish company called Marine Biopolymers proposed the first-ever industrial-scale harvest of kelp from Scotland's wild and watery forests—including those here at Garvie Bay. The company argues that because kelp regrows quickly, the project would be an eco-friendly economic boon."
In a piece about Scottish highlanders' responses to an industrialization kelp farming, O'Grady profiles Ailsa McLellan, a small-scale wild seaweed harvester and community organizer. The campaign opposing Marine Biopolymers' proposal brought together the youth-led environmental group Ullapool Sea Savers, Fishermen Associations, activists like David Attenborough, scientists and other community members.
Their organizing led to the passage of a 2018 amendment in the Scottish Parliament which bans "any commercial harvest method that would harm the regrowth of individuals—including dredging." This amendment prevented Marine Biopolymers' proposal from going any further. While folks across Scotland have mixed feelings towards the particular order of events and the politics behind it, the impact made by community members is clear - and inspiring for all of us seaweed lovers.
O'Grady ends the article with an acknowledgment of the movement towards a land and intertidal commons in the Highlands:
"In the past few decades, the people of the Scoraig peninsula have steadily reforested the land. Along with the handful of Highlands communities that have bought their land from wealthy landowners and now manage it in community trusts, their vision of Scotland's natural resources is one of shared ownership and shared benefit."
Read on and enjoy!! - Cathleen O'Grady's full article is at Hakai Magazine - 17/03/2020
New seaweed read for West coast folk!
The Curious World of Seaweed by Josie Iselin is available for pre-order from Heyday Books.
"The Curious World of Seaweed, was released by Heyday Books in August 2019. It is an award-winning, spectacular specimen of a book—a deep dive into the history and science of the iconic seaweeds and kelps of the Pacific Coast and beyond; it is full of visual treasure and engrossing narrative, including stories of the many pioneering women scientists whose research and work in the world of marine algae has advanced our understanding of the oceans. Beach Stones and Seashells have become beach combing classics, and her little Heart Stones is a must for anyone thinking about love!"
Century-old maps are helping track B.C.'s kelp forests — and their discovery was kind of an accident
Using British admiralty charts from 1858-1956, research team has created digital map of coastal kelp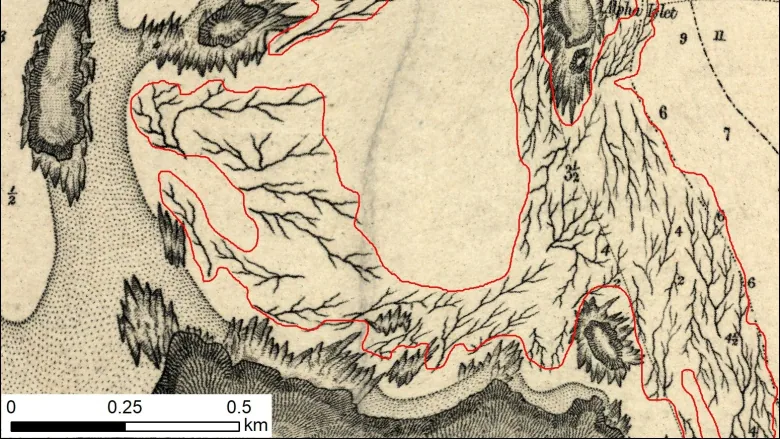 A serendipitous meeting between a professor and a colleague last year led to a treasure trove of historical maps that indicated kelp bed locations off British Columbia's coast, helping experts understand the changes in what are known as the "rainforests of the ocean."
Using those British admiralty charts from 1858 to 1956, Costa and her research team have now created the first historical digital map of B.C.'s coastal kelp forests.
They'll use the maps to further investigate the loss of the kelp beds in research supported by Fisheries and Oceans Canada, Canadian Hydrographic Service and the Pacific Salmon Foundation, she said.
"Kelp was considered a navigational hazard, so the British carefully annotated all kelp forests on their charts,'' Costa said. "And the historical charts increase our understanding of kelp distribution over time.''