Scotland's Seaweed Showdown
Scotland's Seaweed Showdown by Cathleen O'Grady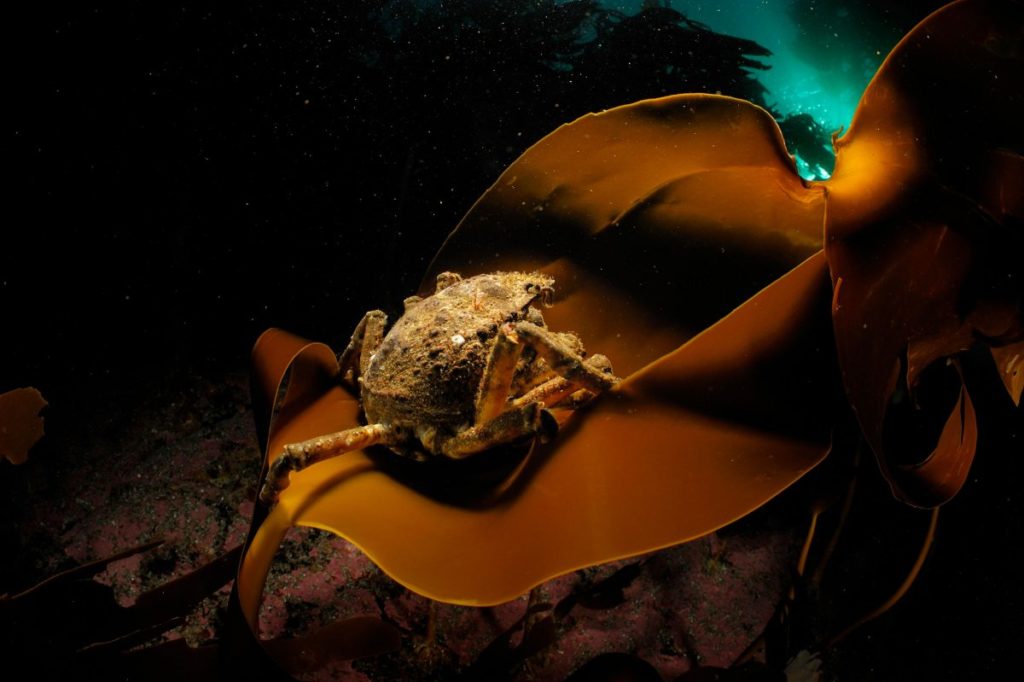 The great spider crab is one species that finds food and shelter in Atlantic Ocean kelp forests. Photo by Nature Picture Library/Alamy Stock Photo
"Garvie Bay is an excellent spot for seaweeds. They coat the intertidal rocks in purple, brown, and near-fluorescent green." Writes Cathleen O'Grady. "McLellan sells some of the seaweeds dried and coarsely ground into chunks as snacks or flavorful additions to soups and stews; others she sells fresh to seafood companies that supply restaurants. But lately, the tangles of kelp that darken the water below the tideline have been commanding her attention for different reasons.
In August 2018, a Scottish company called Marine Biopolymers proposed the first-ever industrial-scale harvest of kelp from Scotland's wild and watery forests—including those here at Garvie Bay. The company argues that because kelp regrows quickly, the project would be an eco-friendly economic boon."
In a piece about Scottish highlanders' responses to an industrialization kelp farming, O'Grady profiles Ailsa McLellan, a small-scale wild seaweed harvester and community organizer. The campaign opposing Marine Biopolymers' proposal brought together the youth-led environmental group Ullapool Sea Savers, Fishermen Associations, activists like David Attenborough, scientists and other community members.
Their organizing led to the passage of a 2018 amendment in the Scottish Parliament which bans "any commercial harvest method that would harm the regrowth of individuals—including dredging." This amendment prevented Marine Biopolymers' proposal from going any further. While folks across Scotland have mixed feelings towards the particular order of events and the politics behind it, the impact made by community members is clear - and inspiring for all of us seaweed lovers.
O'Grady ends the article with an acknowledgment of the movement towards a land and intertidal commons in the Highlands:
"In the past few decades, the people of the Scoraig peninsula have steadily reforested the land. Along with the handful of Highlands communities that have bought their land from wealthy landowners and now manage it in community trusts, their vision of Scotland's natural resources is one of shared ownership and shared benefit."
Read on and enjoy!! - Cathleen O'Grady's full article is at Hakai Magazine - 17/03/2020